First step to change anything in your life is to become aware and to identify what became out of balance. Yoga and Meditation are practices that make this possible. And so much more:
Yoga opens the body gently, loosens blockages in body and mind, reinvigorates and calms. A continuous practice gives you the knowledge you need to purify your body and have greater stamina, stabilise your emotions, focus your mind and increase your overall well-being. Bravely you can face stress, trauma sickness or simply the weight of the world with a lighter mind and establish a healthy relation with yourself, your surroundings and your community.
On a bigger picture I have found Yoga holds transformative powers to change your whole life around. I guide through simple, down to earth practices.
Elemental Yoga
There is a whole "forest of Yogas" out there and you gotta find yours! Elemental Yoga is a holistic system based on Chinese Medicine and the meridian system that works deeply with the elements in our natural surroundings and in our bodies. It recognises our body as a Microcosm within the Macrocosm. You learn to step into your power and to be at ease, when to preserve your energy and when to let it thrive- a practice inspires by nature. Asana (physical postures), Pranayama (breathing exercises), Mantra (chanting) and meditations, connected with each season are an integral part of the practice. Meditation and Mindfulness are an integral part accompanying each practice.
"We are fragmented into so many different aspects. We don' t know who we really are or what aspects of ourselfs we should identify with or believe in. So many contradictory voices, dictates and feelings fight for control over our inner lives that we find ourselfs scattered everywhere, in all directions, leaving nobody at home.
Meditation then is bringing the mind home."
- Sogyal Rinpoche, The Tibetian Book of Living and Dying
"The density lives on the intention that Friedel puts in each word of the class, but it is the lightness and the balance the result of a session. The calm, but depth it brings are the perfect contrast to the end of the day. "
- Inês, Portugal
"Friedel gives her Yoga classes with most care of her student's health condition. Her goal of putting everybody in a relaxed mode which would last until long after the class, she achieves with us each time. I especially enjoy her calm atmosphere and good structure."
- Saskia, Germany
"For the first time I do not feel frustrated in a Yoga class, I feel calm and confident. Friedel gives me the feeling of depth, knowledge, firmness and a lot of sweetness. "
- Carol, Brasil
Sacred Female Architecture, Totnes/UK
This 5 week journey is a gentle introduction that blends Women' s Health Yoga, self- love practice, breathe & gentle ceremony and other creative tools that can help you connect to your sacred female architecture hosting pelvic bowl, uterus, ovaries, cervix, heart etc. and starting or supporting a journey towards self - healing and self- love.
5 base-themes will set the tone for each session and allow us to dive deep, learn about and experience our sacred female architecture in a supported and intimate circle.
Dates: Tuesdays: 26.3, 2.4, 9.4, 23.4. 30.04 Price: £50
Earlybird: £45 (until 10.02.2019) Sisterpack: bring a friend and only pay £80 for the 2 of you
Concessions available for teenagers & students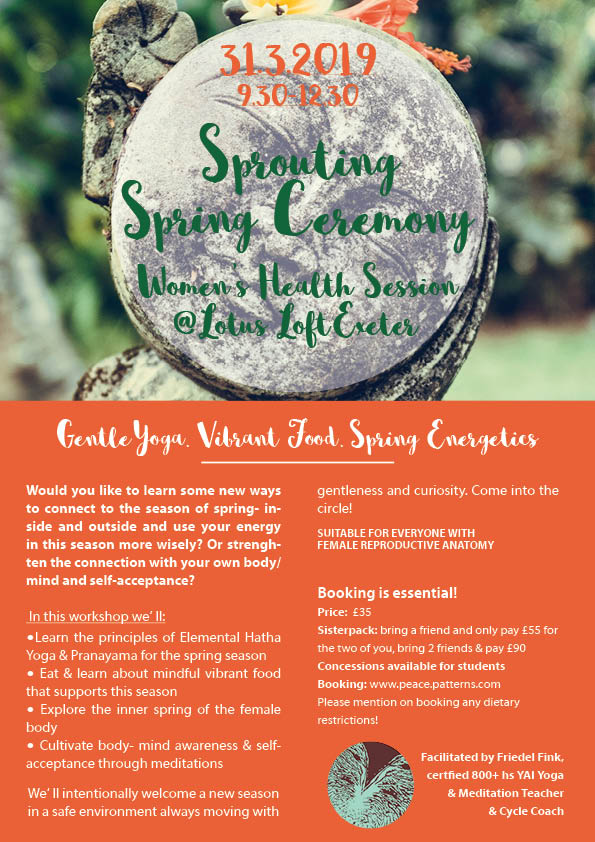 Women' s Health Sessions @Lotus Loft Exeter/UK
31. March 9.30-12.30 Sprouting Spring Ceremony
18. May 2-5 Theme to be confirmed
For themes stay tuned here, on my facbookpage or subscribe to my newsletter
Cost: £35
Earlybird: £30 (applies 1 month before the event date)
Sisterpack: bring a friend and only pay £55 forthe two of you, bring 2 friends & pay £90
Concessions available for teenagers & students